Our 2018 open dates will be:
October 5th, 6th, 12th and 13th, 19th, 20th, 26th and 27th!The doors "Creep" open at 7:00pm and "Slam Shut" at 11:00pm!
More Horrors await you this year!  New features that will instill fear and dread!
Tickets are $15 at the door and $12 online (see PayPal button).  Children 9 and under: tickets $5 at the door only
T-shirts for this event are available at the Ticket Booth for $13
Directions below, address is 5955 W Hurt Rd, Monrovia, IN  46158
We are all volunteers.  Proceeds go to the preservation of the Hall School House and to other charitable and community causes.  If you would like to volunteer, please complete this form and send to rmarsh@iendeavor.com .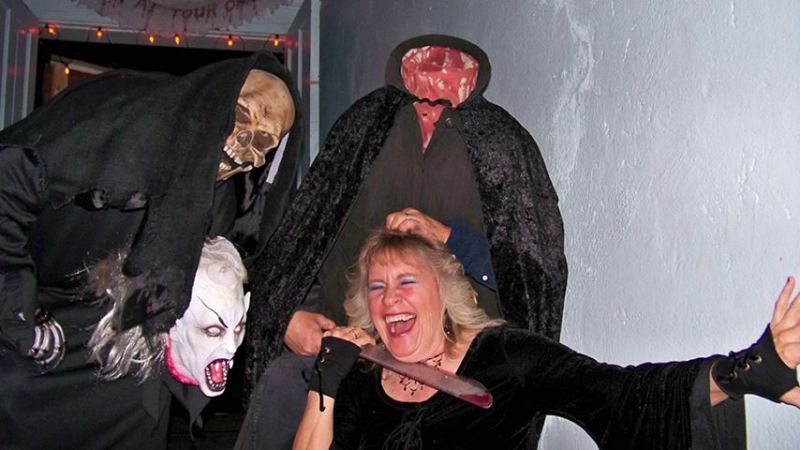 Are you looking for a Scary Good Time?  If so, you and your friends are cordially invited to the Historic Hall School House for the Haunted Time Of Your Life!  The Evil that's Lurking within this Spooky Old School House, will have your Heart Pounding and your eyes Frantically searching for a way out!!!
The Grim Reaper invites you to come to his School Of Horror, if you have the courage this October!  Join – Freddy Krueger, Jason Voorhes, , The Grave Robbing mother, "The Headless Horseman", The cemetery, and a cast of many more.  You will want to visit the Alien Spaceship, Crystal Lake and The Well.  Oh!  and do plan to visit our Maze on your way out.  Chances are, you will be lost  in there Forever!!!

Not recommended for Children under ten.  They are welcome but
must be Accompanied by an adult!  Also, not recommended for those with certain heart conditions.  You are welcome but enter at your own risk!
Beware the Evil that lurks in the Halls of this Spooky old School  House!                                                  
Directions:
Take St. Rd. 42 west of Monrovia to Hall road, then left to downtown Hall, then right to the school house.  Or, take 142 west of Wilbur to Hall School Rd, then go north to Hall and the School house.  Follow the signs to the Haunted School!  5955 W. Hurt Rd.  Hall, Indiana  You can also follow the signs which are places to direct you to the Haunted School House from all directions.  If you are having problems finding it, please call 317-443-0779.